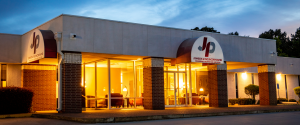 Johnson & Pace Incorporated is your one-stop source for engineering, architecture, and surveying services; JPI offers a broad range of services to take your ideas from concept through planning and into successful reality. 
With headquarters in Longview, TX, and an additional office in Bossier City, Louisiana, JPI serves customers throughout the United States. Our customer base is broad – from mining, oil and gas companies to municipalities, individual families, and everything in between. Our depth of experience spans multiple disciplines:
Land Planning and Development

Water and Wastewater Engineering

Municipal and Roadway Engineering

Structural Engineering

Mechanical Engineering
Architecture and Facility Design

Mining Engineering

Land

Surveying

and Mapping

Industrial Design

GIS and Data Management
We provide cost-effective, personalized project management through creative designs, innovative solutions, and accurate data.
JPI employees' specialties include professional engineers, registered architects, registered professional land surveyors, certified floodplain managers, LEED accredited professionals and green associates, structural engineers, and certified professionals in erosion and sedimentation control.
Johnson & Pace Incorporated began in 1995 with a vision from two hard working individuals: Wade Johnson and Lonnie Pace. Wade is a Civil Engineer who dreamed of having his own practice.  Lonnie was a Professional Land Surveyor in Private Practice. They felt it just made sense to combine Engineering and Surveying services together into one company.  Over the years, the small partnership grew into a successful company offering many more services, such as Architecture, Structural Engineering, and Industrial Design.  Eventually, Lonnie retired but the company continues with his name, honoring his legacy as a founder. Soon after, Delcine Johnson, a University of Texas Business graduate, stepped up as Business Manager, eventually earning the title of President.
The fundamental key of our business strategy is building long-term client relationships.  With more than 20 years in the industry, we have attracted and retained clients by providing superior customer service.  In fact, much of our work is repeat business from loyal clients. You can expect the best from every aspect of our company and strength in our commitment to achieve the highest possible standards by experienced, professional team members.
Driven to maintain our reputation, Johnson & Pace is committed to ensuring the safety of our employees. We institute company-wide safety policies, and any employee in the field follows the rules and regulations for the site, industry, and company, as well as, regular Professional Safety Instructor lead training. In addition, employees give back to the communities in which we live and work in many ways, something JPI promotes.
To maintain the best quality, stringent guidelines are followed throughout the design and construction process, along with scheduled reviews, to ensure the highest performance in quality control and assurance.  Being a multidiscipline company insures cross-department communication which reduces time and overhead cost compared to the typical, fractured procedures of other firms.  You can expect the highest level of quality control at all levels of the project development as follows:
Design Stage
Our managers review all plans at the discipline level throughout the development of the project. All documents are checked for consistency, completeness, readability, adherence to regulations, and constructability throughout the design phase.
Bid Documents
Bid documents are checked and then checked again at the discipline level. Even as the bid binders are assembled, a final check is performed on documents for consistency and numerical accuracy.
During Construction
Quality is top priority at Johnson & Pace even after we release the construction documents.  To ensure that, we have a department solely committed to the administration and oversight of construction projects. Plus, we perform critical on-hand observations at construction sites to verify that your project stays on track.  We take care of your project from initial concept through final build inspections.